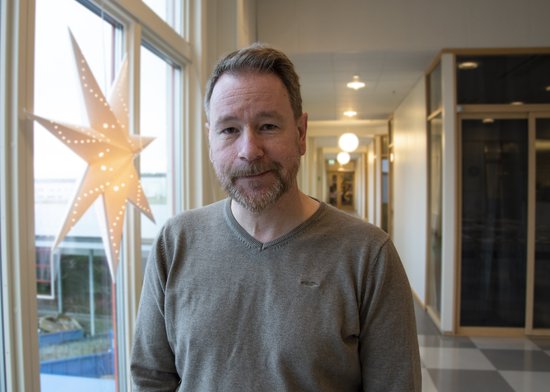 1997
Stefan Wedebrand
Stefan, who works as a credit manager, shares some of his memories from his time at Jula.
I started working at Jula in April in 1997. After graduating in economics there were not many jobs to choose from in Skaraborg after the crisis in the 90s. I was therefore pleasantly surprised when the personnel manager at the time, Per-Erik Frost, called and wondered if I would stand in for the payroll administrator. That was the start of an interesting journey within Jula that has continued to the present day, with new challenges basically all the time. Just now we are focusing on the launch of Wästgöta Finans.
The main reason I've stayed at Jula is because it's a company that is continuously developing and moving on. Also because I've personally faced challenges in a lot of very different areas. It is a secure workplace and I get on well with my colleagues.
Throughout the years I have experienced many milestones in the company. In this context I could mention moving into the new central warehouse, the head office moving to the central warehouse, and the openings in Norway and Poland.
In addition to my work at Jula I have for many years worked with Lars-Göran Blank and his private business matters. Extremely instructive and rewarding on many levels. We built up a large property holding in Skara municipality, with apartment buildings and business premises. In addition to that there was the running of a restaurant and bowling alley. A wide range of activities, but nothing daunts an entrepreneur like Lars-Göran Blank.
Taking part and completing the building of the Jula Hotel was a big challenge for me. It all started in 2005 when Lars-Göran was looking at the location of an old motel. He had all sorts of plans for the building, for student accommodation, a home for the elderly or a gigantic petrol station, before it was decided that it would be a hotel. There were a lot of twists and turns before the hotel standing there today saw the light of day.
I was the project leader and the person who represented the client at the meetings with the builders, while also getting hold of interior fittings and employing personnel. One of Lars-Göran's demands was that we should have access to a suite 24 hours a day. The hotel had no less than three suites, which is unusual. The hotel opened on the 2nd of June 2007, and in 2012 I left Lars-Göran's private business behind, which by that time had considerably expanded and involved several different companies.