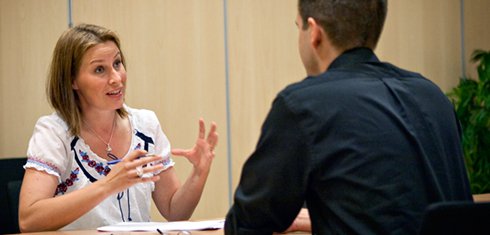 2003
Pia Hermansson
Pia has worked at Jula in Skara since 2003. But she didn't intend to stay in Skaraborg after studying the personnel and leadership programme in Örebro. Read about her journey here.
Before I was studying in Örebro I had been living in Gothenburg for some time, and had plans to return. My husband and I were only at home in Lidköping to work during the summer, when I ran across the logistics manager on a round of golf. He told me to get in touch with the personnel manager, Per-Eric Frost, for an interview. Jula was in the middle of an expansion with two department store openings every year, and they needed reinforcements in the HR department.
I got the job as HR and payroll administrator at the head office on the top floor at the department store in Skara. The HR department was built up together with Per-Eric Frost, which meant that I had to do a lot from scratch. Among other things to produce a personnel handbook, write policies, and take part in many of the recruitments for newly established department stores and the office. At that time there were about 80 persons working at Jula, in the office and warehouse.
In the following years the number of staff in the office rapidly increased and we were expanding and often moving around so much that in 2006-2007 we were even sitting in the corridors. HR, finance and security were transferred one year to a temporary office at Drysagården (by the Jula Hotel in Skara) while the construction of the new head office and central warehouse was in progress.
The move to the present head office and central warehouse was special and really good. The planning took some time and we had Excel documents to show where everyone would sit, which furniture would be moved and what would be bought new. When we actually moved we realised that there was no soap or porcelain. So we just had to go to IKEA and buy it, because you couldn't order it then. We also took the opportunity to send orders to the department store manger in Jönköping, Sven Thorsson (now regional manager), for things from IKEA when he was going there anyway.
When Jula was established in Norway in 2008 I was involved in the recruitment of staff for the first five department stores. In connection with opening the department store in Ålesund, a very beautiful place, the language was sometimes a challenge. We laughed a lot together with the persons we were interviewing and had to clarify before the interviews that there could be misunderstandings because of the language. We often had to help out. But it was never a problem to explain what sort of a company Jula was, because we were already well known before we established ourselves there.
The best thing about working at Jula is that there is always a lot going on, and one half of the year is never quite like the next. To take part in this eventful journey, together with wonderful colleagues is a fantastic learning process every day.