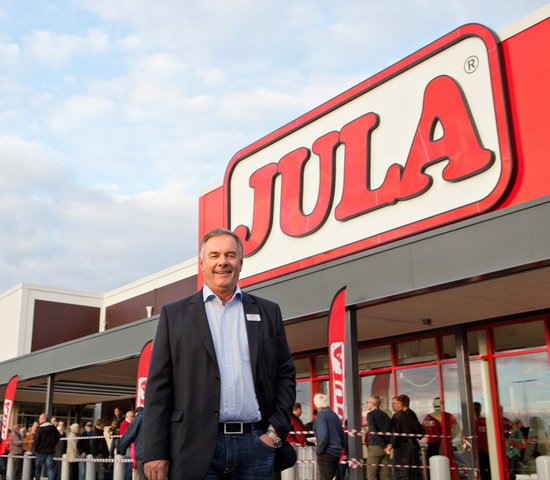 1992
Per-Eric Frost
Per-Eric started at Jula at the end of February in 1992 and could never in his wildest dreams have imagined what a journey it would be during his 23 years at Jula. Read about his time at the company here.
I knew Lars-Göran and Karl-Johan from earlier on at hardware trade fairs. After a few months on the new job I became responsible for personnel and customer service, and a few other things. We had noticed the success of Clas Ohlson at Gallerian, and they asked me to find a similar location for in Jula in the City of Stockholm. Which is what I did, and a few months later Jula opened department store number two on the corner of Drottninggatan and Vattugatan. A three-floor building, with loading bay, warehouse and store, and a total of 620 square metres. Far from an ultimate solution, but all big things also have a modest beginning. So did the continuation, with a cautious expansion with Malmö Mobilia as department store number three.
Västerås as Jula store number four in 1996 deserves a chapter of its own. Lars-Göran had got tired of Skara municipality's defensive treatment of Jula's appeal for land for an expansion. Karl-Johan had an idea that we should have a look at Bulten's former warehouse in Hallstahammar. After a few twists and turns we settled for a property at Erikslund in Västerås, which we acquired and rebuilt, and which became department store number four. Other tenants in the property included XL, Storköp (which immediately became the largest supermarket in Mälardalen) and Team Sportia. It was a great success for everyone involved and a big boost for Jula and the newly established real estate company Julonen, as it was called then. Julonen (which was later developed to G&K Blanks Fastigheter) acquired more land and developed an additional two properties with tenants. Jula has to a very high degree contributed towards making Erikslund the largest shopping centre in Mälardalen today.
The expansion of the department stores continued at an increasingly faster pace after 2000, with as many as 7-8 new stores every year. After having to struggle in the early stages of expansion to find good locations, the situation suddenly became very different. Jula was established as a strong brand and a given player at all external shopping centres. Jula's city store on Drottninggatan was closed, and moved to Arninge Centrum in 2000 at the same time as the opening in Kungens Kurva. Jula was stamped on the map in the capital and several other stores were subsequently established. Today we have eight of them.
Jula had been very successful in Sweden and it was well known that our main competitors, Clas Ohlson and Biltema, had been doing well in Norway for over 10 years. A decision on expansion and establishment in Norway was taken, and we started up in 2008 with a rented office in Lörenskog with two desks. I employed Per Jacobsen as president, along with a secretary. It was the start of something that could be compared to a fairy tale. In spite of complicated regulations concerning establishment, after receiving very good assistance Jula rapidly opened several department stores in the best shopping centres, and success in Norway became a foregone conclusion. For establishment and the inspection of shopping centres in Norway, the Jula plane at Hovby has been invaluable for us to work quickly and effectively. I managed to sign contracts for 33 department stores in Norway before I retired.
Jula had expanded so much by 2009 that I no longer had the opportunity to be both personnel manager and business development manager. It fell as a natural choice for me to continue as business development manager. The next big thing was the establishment in Poland, which was rather different to Norway in many respects. The preparations were much more extensive, with a completely different language and culture. Jula Poland quite quickly established over 10 department stores, whereby several of the premises were provided by Inter IKEA.
No one has had a nicer job than me. It has been a big part of my life, but so much fun. What I am most pleased about during my time at Jula is to have worked closely with the owner, who has always made quick decisions, and to having employed several persons who today sit in Jula's management. Obviously I'm also very pleased to have been trusted to establish over 80 department stores in three countries.
Karl-Johan says:
I had a very good and important collaboration with Per-Eric. We visited all the new establishments from 1992 together, before I signed the contracts. There was a lot of travelling at that time, but they have also been important for the development of the real estate company that we were working together on for many years.