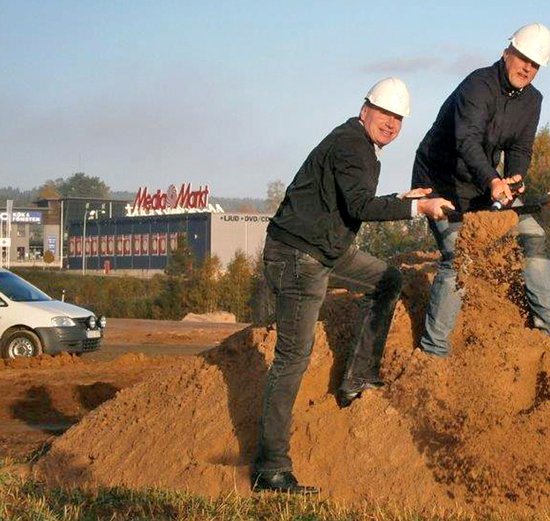 2010
Välsviken, Karlstad
In order to expand Karl-Johan appoints a CEO for the real estate company G&K Blanks, Johan Carlberg. The company also acquires a site at Välsviken in Karlstad.
Karl-Johan tells us:
For more than 15 years we had tried to rent or purchase a property in Karlstad for Jula, but without success. I saw an opportunity in the site at Välsviken that we used to pass by. On the other side of Karlstad there was the popular Bergvik shopping centre, which made Välsviken a doubtful choice. I decided that we would either make it or break it, so together with Per-Eric and Johan Carlberg we had a meeting with a positive municipal administration and acquired the site in several stages. It has become a fantastic commercial property with excellent sales. It also had Jula's absolutely best inauguration, with queues stretching for kilometres.
The top photo shows Karl-Johan and Johan during the construction of the property in Skövde, which was inaugurated in 2015.