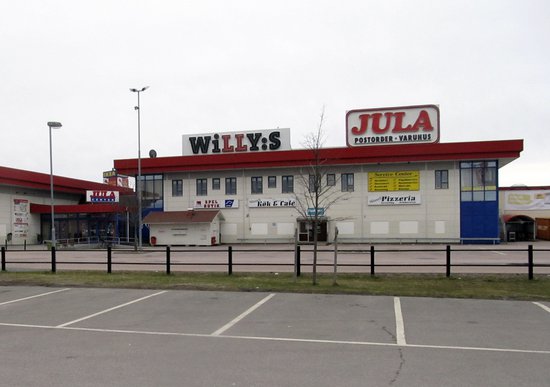 1996
The real estate company G&K Blanks is started
Lars-Göran and Karl-Johan Blank together start up the real estate company G&K Blanks Fastigheter AB. The objective was to build or acquire business properties at development locations where Jula AB could not find suitable premises.
The largest property at the Erikslund shopping centre in Västerås was acquired and rebuilt to a Julacenter the same year. The acquisition and the new Jula department store was the foundation for one of Sweden's biggest shopping centres and is a very important part of Jula's further development. The department store in Västerås was the fourth store Jula opened.
Karl-Johan tells us:
We had limited space in Skara, and needed a new central warehouse. I had an idea that Bulten's old central warehouse in Hallstahammar by the E18, which was vacant, could be of interest as a new central warehouse. I therefore asked Per-Eric Frost, former development manager, to check it out. He talked to the business manager in Västerås, who he thought the site belonged to, and who instead tipped him off about the Erikslund property, which was an empty shell. My father and I went and had a look at the property and bought it straight off even though we were having financing problems, but which we managed to solve in the end.