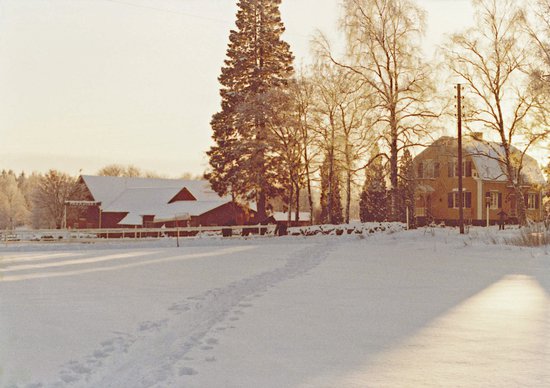 1979
The history of Jula starts
The history of the Jula group began when the company Jula Industri AB was founded on the farm at Jultorp on the outskirts of Varaslätten in Västergötland.
Following the oil crisis in the late 1970s, Lars-Göran and Irene Blank started the manufacturing of the Jula saw, a combined log saw and log splitter. Lars-Göran got the idea from his grandfather Otto, who made circular saws to produce firewood for gas cars during the Second World War.
Lars-Göran tells us:
My grandfather was a designer and inventor. Among other things he made a band saw, a great big machine that was used to sand boards. He made the machine himself in his own workshop in Hjo, and it was later sold all over Sweden. I was often with my grandfather, he taught me a lot about engineering and the workshop.
The photo of Irene and Lars-Göran was taken in the office at Julahuset in Skara.
The two saws are Lars-Göran's grandfather's log saws from the 40s.
The photo shows Irene and Lars-Göran on the left, and the son Karl-Johan on the far right. The photo was taken in 1970, before Jula was started, when Lars-Göran and Irene worked with the manufacturing company Tranesläpet.